April 2015, this is an update to demonstrate the change of about one year. I continued to work with Talenthouse after the relaunch 2014 (complete overhaul). We improved on the interface and there have been a couple of challenges. For example highlighting new and important (paid) content and making all art work look good equally, i.e. find solutions for dynamic content. The first thing we changed was the discover page (art in an organic grid) – How do you structure it, so it is fluid, but not chaotic? What if a picture has a lot of white? Experimenting with different content is crucial to be prepared for as many cases as possible.
Of course we're constantly working on improving the experience and the Developer team works on new features that have to be designed. So, it's also important to say that these "reports" are only a capture of a specific moment in the life time of an online product. As of September 2015 I am still part of the team, so to see my up to date work, visit talenthouse.com.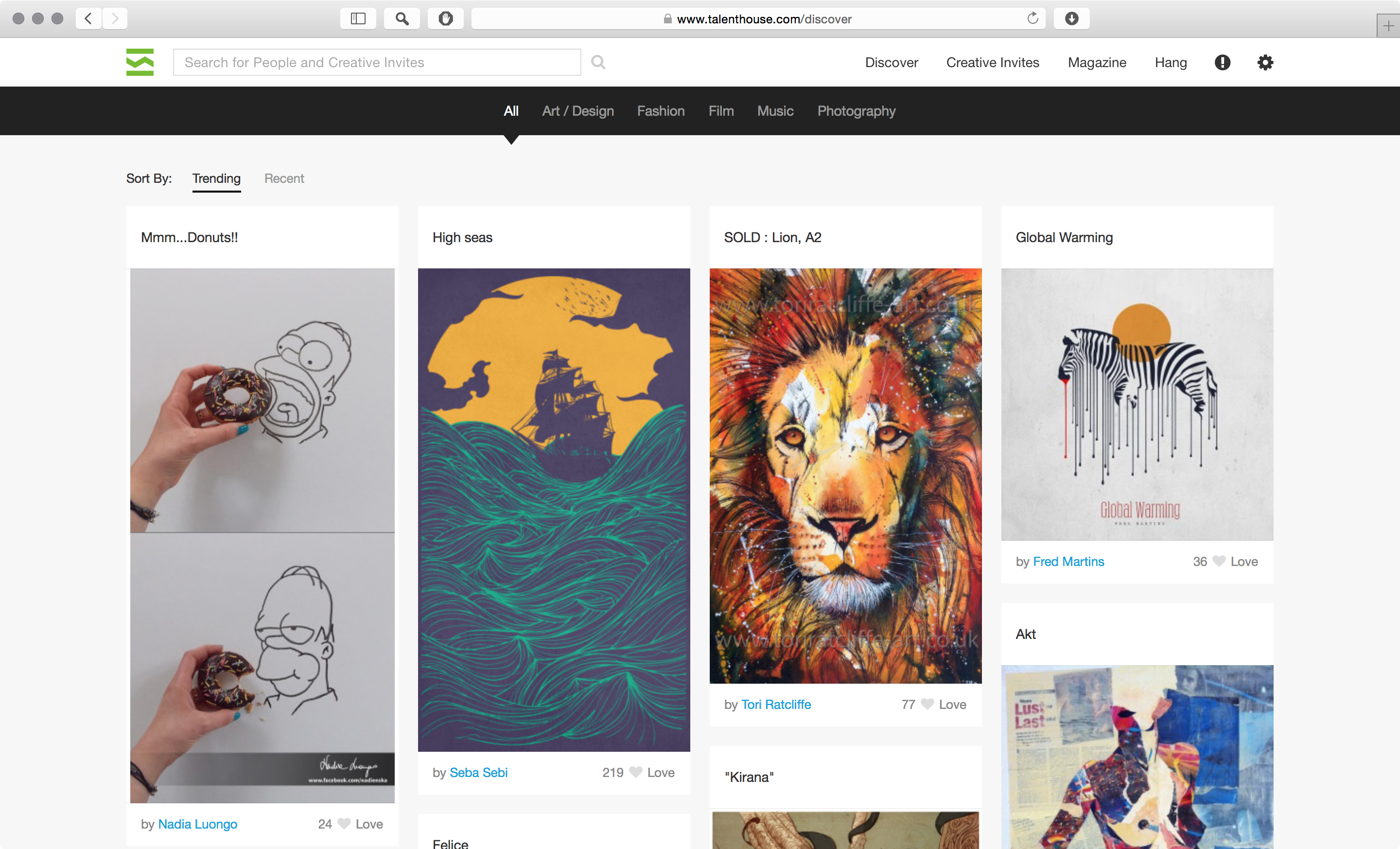 We also went through a few iterations for the Creative Invite page. It has to be informative and visually inviting, of course. I decided to have a blurred background image. It creates aesthetic appeal, but due to a half transparent black overlay it "stays in the background" making the information visible.
Submissions follow the same organic grid as the Discover page. And there is also a unified experience for seeing content fullscreen – no matter if you are on the Discover page, or clicking on a submission to an Creative Invite, or want to comment on art work on someone's profile.
Apart from some minor rearrangements of elements the profile has not changes much in the past year. A feature called Activity has been added. It shows a feed the items the profile owner has loved – one can love images and videos anywhere on the Talenthouse platform. In the future there will be more activities displayed.