On April 20, 2014, www.talenthouse.com went online with a completely redesigned appearance. A hand full of developers (incl. the Head of Product) and I, the company's sole Product Designer, have worked for about 4 months on this relaunch, a very clean and modern makeover. I am very proud of what we have accomplished.
Of course we are always improving the platform, so with the introduction of new features there are consequently changes happening in the product's visual appearance.
In the following I will show you how the initial layout looked like.
Landing Page
In order to take full advantage of all the community's features and take part in the art conversation, every artist and art lover should sign up.
Home Page
Creative Invite
A Creative Invite is complex and has a lot of information to offer for the user. The challenge is to make everything accessible and and of course visually appealing. I am working with a good amount of white space to reduce the feeling of information overload. Also, there are as few colors as possible to make colored links and featured image pop out more.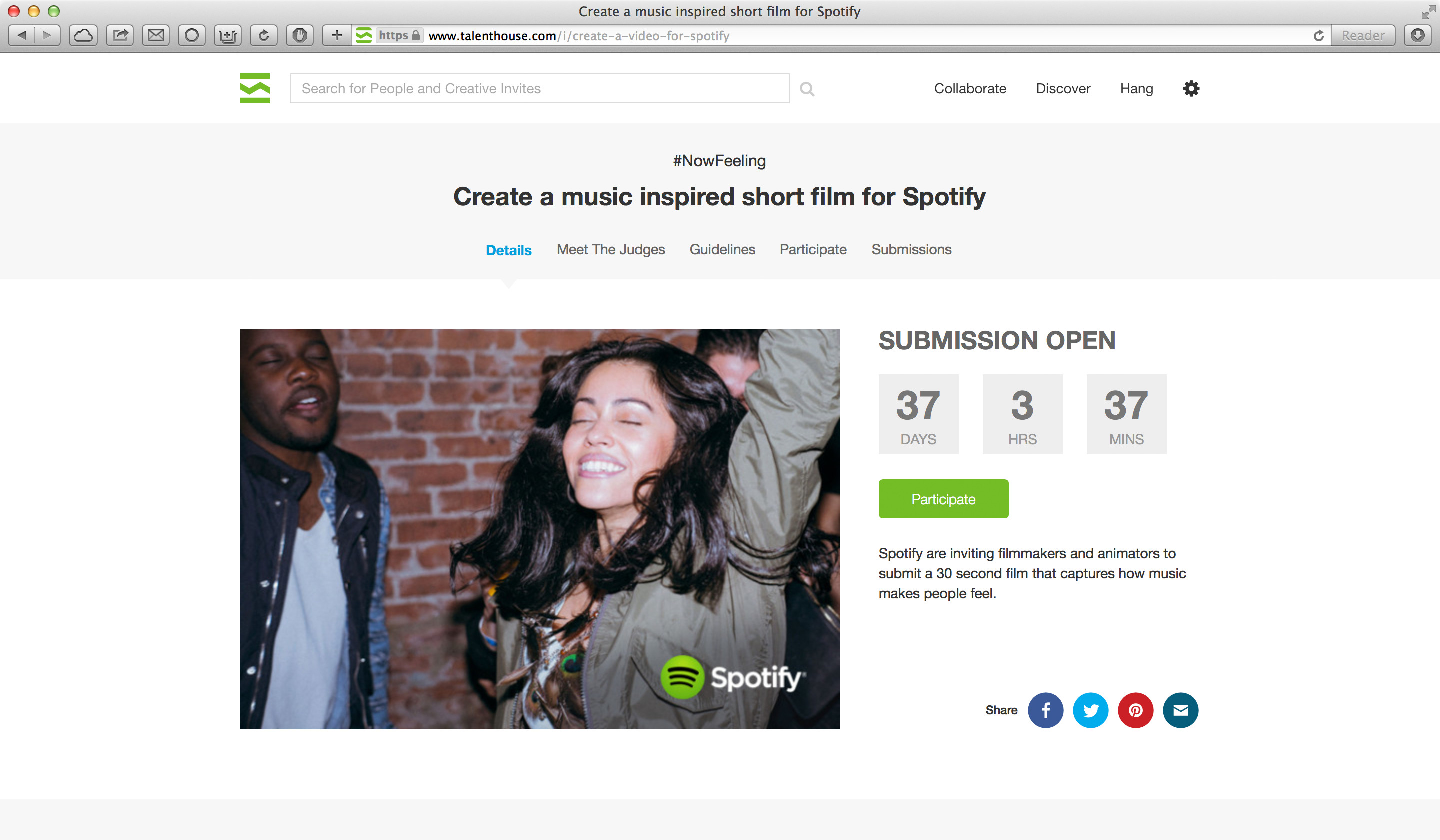 The header area has been iterated a couple of times since launch. Have a look at our current layout (example is a Creative Invite with Yahoo Aviate). You see that we reduced the number of tabs and introduced Comments and Updates sections.
The layout of this detailed Creative Invite page is designed to do two things. One, easy set up by non-designers, i.e. campaign managers (social media teams, pr employees etc.) with the concept of rows and columns . This is an advantage over the previous version, where managers had to paste in html code to create sections. Secondly, the layout can be customizable for different brands. For example, there is the option to change the background color to match specific corporate identity.
Users' artwork
Later in 2014, we added the feature of "loving" an artwork, so the design changed naturally. Check out the Discover Page here.
Profile
On their profile artists can highlight their work, write something about their past and future projects and link to external sites. With the introduction of "Love" the "Activity"-tab was added. The layout has been changed slightly for overall consistency with the rest of the site (e.g. background colors, card style for art work, sidebar for cross promotion in "Activity"-tab). See my profile at Talenthouse here.
Settings
Clean and functional, as it should be.